The rise of gasoline prices is hitting hard
It's no secret that gasoline prices have risen to unbelievable heights. In fact, the recent surge is the biggest since 2004, as the oil prices have increased more than 30% in the past year. This is a major problem for companies whose core business includes shipping or deliveries.
Efficient route planning has become more important than ever for fuel-efficiency. And to achieve efficient route planning means you need to carefully review your delivery strategies. We know, it's hard out there for you, fleet managers.
So, if you still haven't invested in professional route planning software, now is the time to do it.
Route optimization is fundamental in last-mile logistics
Route optimization is the process of determining the most cost-efficient route. But it's not as easy as finding the shortest route between points A and B. In fact, the shortest route might not always be the most efficient one in terms of fuel usage.
Efficient routes are important whether you offer door-to-door deliveries or a service where your technicians visit clients. Since driver wages and fuel costs alone might make up as much as 59.8% of the total operational cost per mile, even a small improvement in routes can positively change your overall profit.
For route optimization to be efficient, it needs to take into account all the relevant factors such as traffic, delivery windows, amount of stops on the route, availability of drivers and vehicles, etc. Since it's very time-consuming and complex work, it is inefficient to do it manually (and well, also quite impossible at some point).
Luckily, there are tools that automate the whole process for you in just seconds. Yep, you guessed it – it's route optimization software. Just like GSMtasks.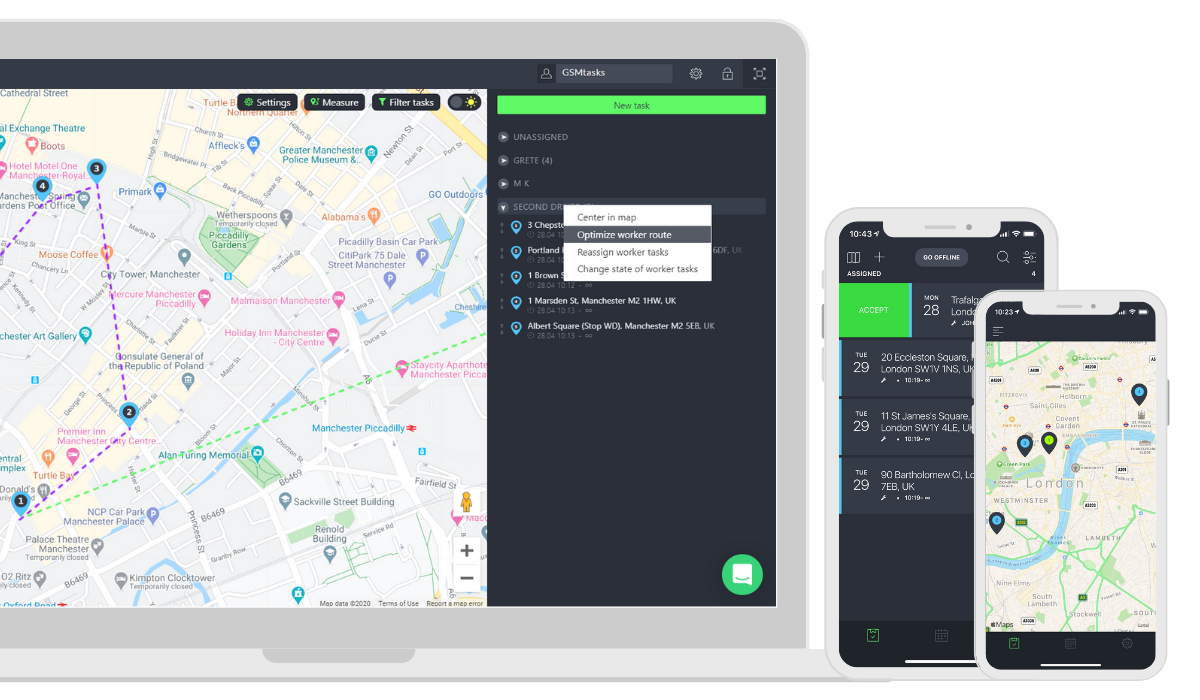 How GSMtasks route optimization helps save on fuel costs
A key to successful delivery, one that's cost-effective and keeps customers happy, is accurate route planning. Because there are so many dynamic factors to consider when planning economic routes, you need professional software that can live up to your expectations.
Let's see how GSMtasks route optimization software helps reduce fuel consumption:
Optimized routes
Well, this one is pretty much self-explanatory. Automatic route optimization software uses dynamic optimization methods and works out the most cost-effective route while considering factors like ETA's, driver/vehicle availability, number of delivery points, traffic, etc. Cost-effective means your vehicles burn less fuel but you will still keep your customers happy with timely deliveries.
Dynamic changes
Let's say you have distributed all the orders for the day between your drivers and planned out the perfect routes for them. But then a driver calls in sick. Or maybe even two. Manually planning new routes would take hours, but you don't have that time. With route optimization software like GSMtasks, that won't be a problem.
GSMtasks will develop a new cost-effective route in just a few seconds, while still maintaining cost-effectiveness and keeping customers happy. The software also takes into account the number of drivers as well as their existing workload and distributes the additional tasks as evenly as possible without excluding cost-effectiveness. This could never be done with manual route planning.
Successful first-attempt deliveries
Have you ever thought about how much fuel your vehicles have wasted because your customers weren't at the prearranged pick-up/drop-off point and your workers drove there for nothing? Of course you have. Each year, failed deliveries cost companies hundreds of thousands of dollars and that's a big problem.
But the rate of successful deliveries can easily rise with the help of route optimization software, as it also gives you a chance to track your parcel during the whole delivery process. GSMtasks for example allows you to send a notification about the upcoming delivery/service provider to the customer with an HTML tracking link. Customers can also contact the driver and cancel the delivery/service time or reschedule. This will help save a lot of valuable time and avoid unnecessary fuel consumption.
Stop wasting fuel & try route optimization software for FREE now
If you're still not sure route optimization software would work wonders for your company and is just a waste of money, don't worry. You can trial GSMtasks completely free for the first 14 days.  And we are confident that this is more than enough time for you to be amazed.
We have a brilliant team of personal account managers that will guide you through every process and help you get started. So you will have nothing to worry about. Well, maybe only about where to put all that money that will be left over since your fuel bills will be a lot smaller…
Sign up for a FREE 14-day trial