Case study summary:
How online stores triumphed over physical stores
How using APIs can integrate with own business software
How GSMtasks reduces workloads and boosts customer service
Bra Sommarmöbler is a Swedish online store offering a wide selection of furniture and other home supplies with the option of home delivery.
GSMtasks was the ideal partner to team up with when they simplified their delivery and fleet management. Since the GSMtasks API interface was easy to customize, the software offered the precise functionality they were searching for.
Online stores triumphs over brick's and mortar
E-commerce shopping has originated in the 1960s and remains one of the most popular methods of buying goods or services worldwide.
Customers love it not only the convenience but also because it provides better access to information, competitive pricing, and a broader selection of goods. Setting up online shops is also popular among companies since it offers easy access to the worldwide market and is less costly than running a physical store.
Although opening up a web store may seem easy, one must still make a continuous effort to find new customers and boost sales. Research has demonstrated that sites willing to do more to offer convenience and personalized services are more likely to succeed and have loyal paying customers.
One of the essential points that e-shop keepers need to consider is offering reliable and flexible delivery options as a vital component of an excellent customer experience. Bra Sommarmöbler has done just that by adding a mobile multi-stop route planner to their business arsenal.
Automated information transmission with the aid of GSMtasks API
Before using GSMtasks delivery and fleet management software, many businesses who are now our customers had concerns concerning the integration of the delivery route planner within their own systems and programs.
Customers should rest assured; GSMtasks interacts with most typical business' software through our easy-to-integrate APIs. The GSMtasks API is a RESTful web service for developers to programmatically interact with GSMtasks data, task management, route optimization functionality, and real-time delivery.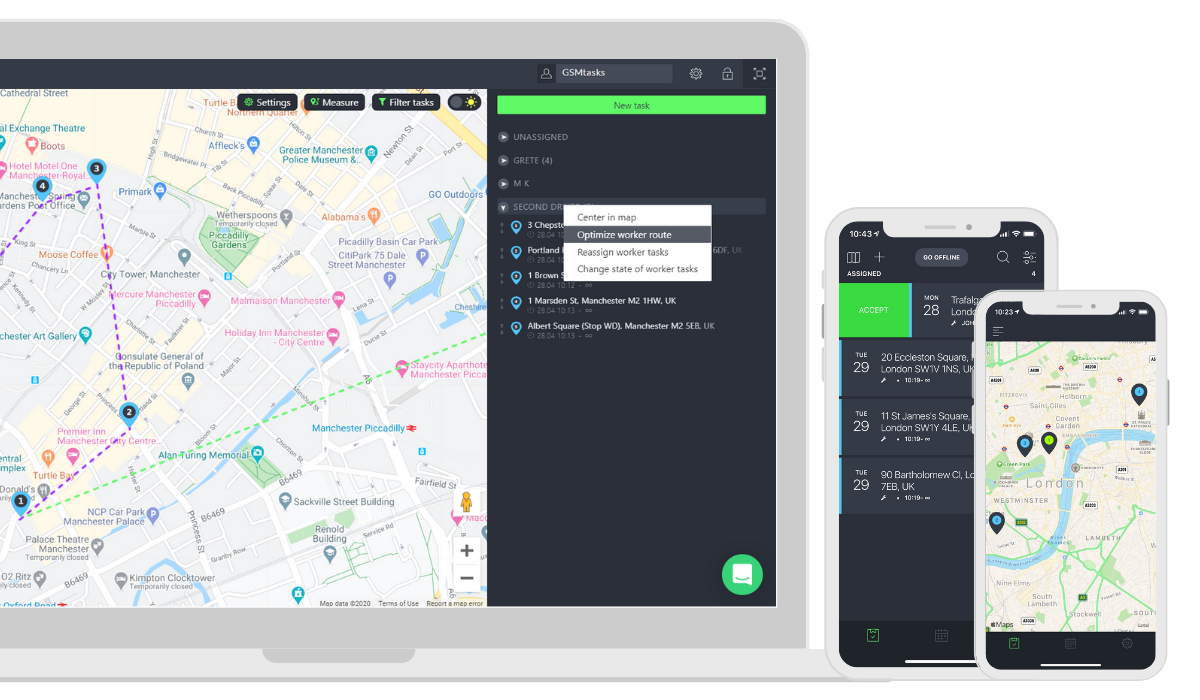 The Swedish furniture e-shop Bra Sommarmöbler had the API set up by their IT team in no time at all. Orders made on their website are automatically transferred to their GSMtasks account and converted into tasks with all the necessary information. Delivery automation is achieved by utilizing our simple API manual that is available for all our clients on our homepage.
Reducing logistics specialist's workload in a few clicks
Logistics managers and specialists need all the support they can get receive due to the increasing complexity of shipping goods in a globalized supply chain. Optimizing delivery routes and managing tasks manually can take hours with little efficiency, but this need not be so. It can be done in just a fraction of the time with the help of GSMtasks route optimization and fleet management software.
Orders containing the corresponding information are sent from Bra Sommermöbler's online shop to GSMtasks delivery and fleet management software. Then the logistics staff efficiently distributes the tasks among the couriers using the drag-and-drop function located within the software. The jobs are automatically sent to the worker's mobile phone or tablet with all the necessary documents that might need to be filled out.
After the tasks are distributed, GSMtasks automatically plans the best delivery routes for the drivers, prioritizing the assignments so that all orders make it to the clients at the right time. The drivers view their daily tasks as a list or in map view with the following client information:
the route to their location;
estimated arrival time;
notification if they might be running late.
The above information provided saves valuable time and considerably improves the communication between staff since the adoption of the software. There is no need for drivers to collect paper documents from the office or worry about any misunderstood or lost information.
Workflows like this translate to more efficient work and add more significant profit since more tasks can be finished during the day in less time.
Personalizing services to boost customer satisfaction
All clients wish to feel loved and appreciate services that are made as convenient as possible for them. One way to boost customer satisfaction is to keep them updated about their order status.
Thanks to real-time notifications offered by GSMtasks's delivery planner app, Bra Sommersmöbler has taken a colossal step forward in providing excellent customer service; due to them providing a flexible and reliable delivery service.
Live notifications sent automatically from the GSMtasks app notify clients via SMS if the courier has started driving their way. The notification includes the estimated arrival time and an HTML link for tracking the driver's route – a great way to make sure that the client is aware of the delivery time and can receive their order as planned.
Additionally, it gives customers a chance to amend the time or place of the delivery if they need to, preventing the courier from driving to the wrong location at the wrong time with the ordered goods.
A notification is sent out with a signed delivery notice after the driver marks the task status "finished" in the app. It is immediately sent to the office staff who can quickly create an electronic bill and forward it to the customer's e-mail. The standard proof of delivery is a digital document and is available for all GSMtasks's clients to use but can be customized according to the needs of the company.
Bra Sommarsmöbler is an excellent example of an e-shop that has decided to adopt from doing business the outdated way and utilize a modern, efficient tool to improve their company effectiveness and productivity.
If you wish to do the same, sign up for a free 14-day trial with GSMtasks!
Start your free trial!